We Deal in Lead is Now Available!
You look to those closest to you, fellow gunslingers of the Order of the King. The arduous trek across the bleached desert is over and now you stand before a slip door. Though tested, the fellowship of your Order stands true.
You grasp the worn sandalwood grip of your artefact gun and twist open the door. You gasp as the sharp sea air hits your lungs. Gulls caw and the foam sprays your face like a baptism. You step through to another reality.
After all, there are other worlds than these.
Stand true, Gunslinger
We Deal in Lead is a 88-page, full colour weird west wanders TTRPG by Colin Le Sueur for 1 or more players. Streamlined rules, fast character creation, and gameplay built on exploration and player choice.
Features:
Set in a strange post-apocalyptic world eerily close to ours, where the borders of time and space wear thin
You are Gunslingers, mythic champions holding off the forces of chaos with lead and grit
Combat and exploration gameplay designed for 1 or more players, including solo or group play
Streamlined d20 roll-under rules based on Cairn, Into the Odd, and Knave
Hard-hitting gunslinger combat with new gun mechanics
Includes an introductory Gunslinger adventure: Swampwater Shootout
Generate a random adventure with the excursion generator or consult the oracle for solo play
Compatible with other Cairn adventures and settings; journey with your gunslingers into other genres and times
Recruit heroes from other worlds to join your quest, even those fallen to death; death is just another door, after all
Keep the bonds of fellowship strong within your Gunslinger Order and your aim will remain true
Wilderness survival and exploration through a world that has moved on — the known and unknown lands are dangerously unpredictable
Friend and train beast companions to act as your eyes, ears, or fangs, including hawks, wolves, and bumblers
Soundtrack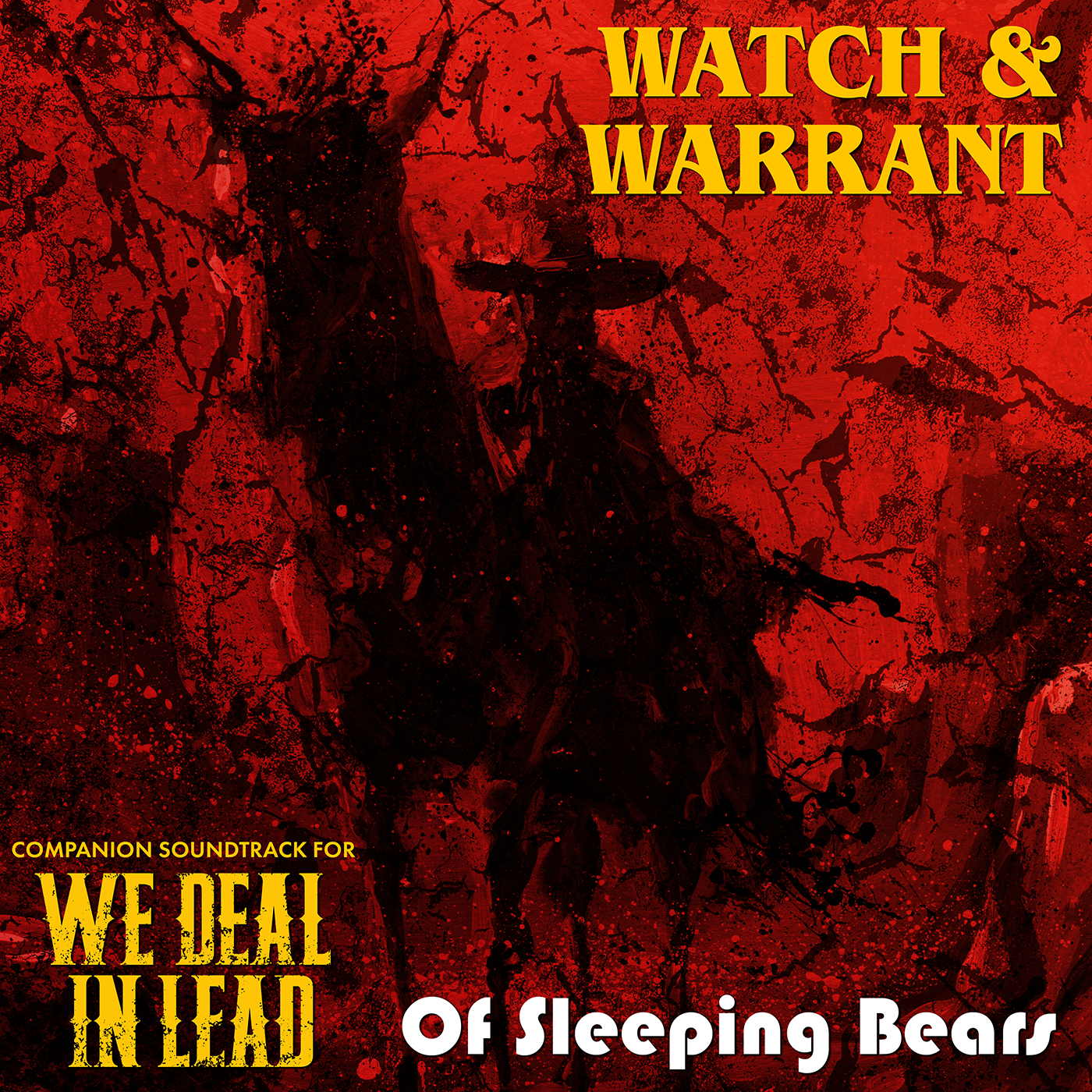 Of Sleeping Bears has done an amazing job with Watch & Warrant, the companion 6 track EP for We Deal in Lead.
High Moon

The Ghost Town of Lud

Ash & Brimstone

Rest for the Wicked

A New Frontier

Broken Order
Album art by Kim Diaz Holm.
Retailers
I'm currently taking retailer pre-orders for We Deal in Lead (hardcover), so if you're a retailer (online or bricks and mortar), email me at [email protected] to arrange a wholesale order.
Retail price is £30 GBP / $35 USD.
Social Media
You can find Colin (@ByOdinsBeardRPG) on Twitter, Instagram, or Facebook.
Or you can find our store at shop.byodinsbeardrpg.com.
Team Members
Colin Le Sueur (@byodinsbeardrpg) - Writer/Designer
Fiona Maeve Geist - Editor
Kim Diaz Holm (@DenUngeHerrHolm), Amita Sevellaraja (@volapardus), Perplexing Ruins (@perplexingruins), Felipe da Silva Faria (@FELIPEMUKY), Colin Le Sueur (@byodinsbeardrpg), Evangeline Gallagher (@egallagher_art), Carlos Castilho - Interior Illustrations
Goran Gligović (@GoranGligovic) - Cover Illustrator
Andriy Lukin (@andriylukin) - Logo Designer
Of Sleeping Bears (Bandcamp) - Soundtrack Composer
From Colin
The tales of the Gunslinger and the Dark Tower have lived inside my head since I first read the novels in high school. A broken world, the last gunslinger in his quest to find the meaning of existence, his motley band of fellow gunslingers. There they stayed, locked away, every so often bubbling up to the surface. I've been searching for a way to translate the worlds of the Dark Tower into a faithful, exciting, engaging TTRPG and I think I've cracked it.
We Deal in Lead is the Dark Tower filtered through my personal roleplaying experience, using the excellent and modular Cairn system. Make the broken world your own and forge new adventures. Stand true, gunslingers!
What People Are Saying
ModernModron (@modernmodron), artist and designer:
Absolutely dripping in flavor, We Deal in Lead feels ripe to create a dark fiction environment. I particularly like the rules for the order/ breaking the order and it sets up a great narrative arc leading out of a major loss, which is fantastic
byneonlight:
First come smiles, then lies. Last is gunfire.

This has not only the mechanical prowess to accomplish its genre/setting emulation, but the soul. I cannot wait to assemble my ka-tet and ride!
Print:
https://shop.byodinsbeardrpg.com/products/we-deal-in-lead
PDF:
Itch.io: https://byodinsbeardrpg.itch.io/we-deal-in-lead
DriveThruRPG: https://www.drivethrurpg.com/product/408506/We-Deal-in-Lead